Projects
Search curated social and community projects in the areas of waste management, education, health,  and beautification that need corporate sponsorship.
Projects needing support in Gurgaon
Polythene Free Gurgaon
Gurgaon Action Plan has been working on encouraging the city to use eco-friendly bags. The campaign involves dissuading people from using polythene bags and disposable plastic items.
GAP has designed a pragmatic plan with the support of MCG and created considerable content for wider dissemination on the harm being done to the environment from the use and poor disposal of plastic.
Jal Jagruti Abhiyan
With Gurgaon's water table depleting at an alarming rate, the residents and government must focus on rainwater harvesting. GAP and the civic agencies conducted an intensive survey of the rainwater harvesting pits in residential apartment blocks to determine whether they were functioning properly. Based on the survey and research, GAP has proposed a detailed plan for effective rainwater harvesting.
Community farming in urban spaces
GAP is piloting an urban farming project in Sector 10A in Gurgaon with the aim to engage community with farming in park spaces and give access to fresh healthy organically grown vegetables. The larger public purpose is to lead cities to a balanced holistic living making agriculture coexist with urban lifestyles.
A part of a large park in Sector 10A is being prepared for vegetable cultivation as a pilot project. This sector has over 32 parks which add up to considerable maintenance expense and therefore many are in a state of neglect.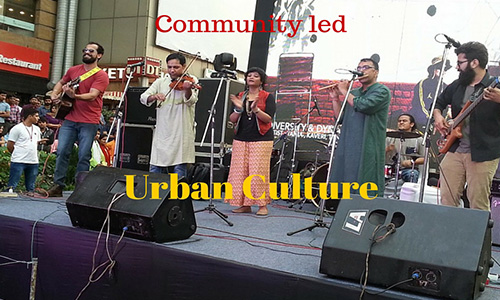 Gurgaon Artists Festival 2
After successfully organizing the Gurgaon Artists Festival in 2016, which brought together a community of resident artists in a week-long festival of art and culture, the Gurgaon Action Plan is planning the second such festival. GAP's vision is to develop the city as a thriving hub of entertainment, culture and art.